Injuries, a change of manager, various questions over player selection and a 2 game ban to our best player yet England won Group D with 7 points going unbeaten. Two wins and a draw was surely what only the most optimistic of England fans would have expected. The performances against France and Ukraine were very disciplined with two clear banks of four and England taking any chances they could to attack but never over-committing. Hodgson would have been furious with the second half of the Sweden game, yes we won and his Walcott substitution worked out really well but there was no shape of defensive discipline in the display. The goals we conceded were extremely poor. Hodgson's teams are built on
defensive solidarity
first and foremost which is why Parker and Gerrard have sat so deep (which cost us on the Nasri goal in the first game) and why Milner is playing on the right over Walcott or Oxlade-Chamberlain.
England have succeeded in the group stages playing reactive football which is exactly how we should be playing, as I explained pre-tournament. We don't have the quality to play any other way and it has worked for teams this season, Chelsea and Atletico Madrid in the Champions League and Europa League finals. England have done this without the whole country saying "We can win it" and everyone expecting big things from these players. Having reached the knockout stages these thoughts might start to creep back in to the media and conversations between people down the pub and at work....DON'T LET THIS HAPPEN! The worst thing that could happen to us now, except for an injury, would be for expectations to rise up. The reaction to the way we play football in this tournament seems to have been one of acceptance. Winning and progression at tournaments is what counts at the end of the day rather than the style of football a team plays. In other countries like Spain, Germany and Holland the style is equally as important, just see the kind of bad press Bert van Marwijk gets from his decision to play van Bommel and de Jong. His decision was shown to be correct after the Portugal game as they were opened up consistently with only one player protecting the back four. The fact we haven't won anything since 1966 may be a big part of this. We crave success and have finally realised we are not going to achieve that playing like Barcelona or dominate a tournament with great flowing football. We have to succeed playing football in a different way based on defending and discipline.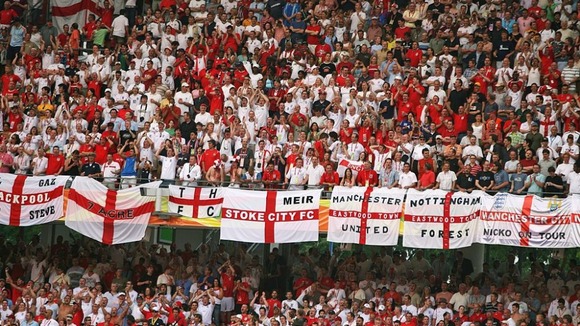 Our path to the final starts with Italy on Sunday, likely Germany in the semis and Spain in the final (in my opinion). Germany have been the most impressive team in the tournament dominating their oppositions playing good football and also looking defensively solid. Italy on Sunday will pose an interesting opposition. I feel they played really well for the first 45 minutes against Croatia and also in parts vs Spain but they never seem to take their chances when they are on top or sustain their level of dominance for long periods of play. Italy are traditionally a team who set up not to get beat and that's exactly how England play so Sunday's game would look to be a defensive battle where one moment of quality will change the game. We will be looking to Rooney for this and Italy will be looking to Andrea Pirlo as everything good they do generally comes from him. He is the heartbeat of the team and can play a killer pass from anywhere on the pitch. Mario Balotelli will surely get a lot of press space in the build up to the game and if he fancies it and if he gets on the pitch he can cause us problems. Rooney and Pirlo will be operating in the same area of the pitch though so they may cancel each other out. If I was Prandelli I would play Pirlo on the right of a central midfield three with De Rossi in the middle to cope with the Rooney threat. De Rossi has been excellent for Italy in the group stages starting in a defensive three for the first two games and playing further forward in the final game against Ireland. England will no doubt be looking for fast breaks with Rooney, Welbeck and Young and also set piece opportunities to get goals.
Hodgson has handled the press and expectations extremely well since he was appointed England manager but I think he fully expected us to progress from the group we were in despite home advantage of Ukraine. Having said that Hodgson has now embraced the rising expectation which I feel may be a bad thing. The English public and the press only need a slight indication that we have a chance to succeed and we will see and hear all the usual waffle come back. Keeping expectation to a minimum should be a priority for the whole country, our players crumble under the pressure of penalties but have seemed to flourish (or as much as they can under our system) without the weight of a country on their shoulders. Hopefully they realised that we would be happy to see them in the knockout stages. A win against Italy on Sunday and a place in the semi finals will be our best performance since Euro 96 and an excellent achievement for the players and Roy Hodgson. With no expectation he took Fulham to the final of the Europa League and at every stage the consensus was that they had done really well but would lose. That is the mentality we need to have for this England team, full support for them but realistic expectations.