Sunday afternoon brought us the biggest surprise from a team selection point of view. Vicente Del Bosque chose to go with 6 traditional midfielders rather than selecting Torres or Llorente up front as a typical striker. The front man of this 6 was generally Cesc Fabregas operating in the false number 9 role, a very Spanish tactic. As soon as Guardiola was appointed Barcelona manager one of the first things he did was to talk to Messi and tell him that he was the best player at the club and that he should therefore be playing closer to the goal. Seemed to be pretty simple - put your best player and attacking threat closer to the goal and he will get more goals. The stats don't lie, it worked. This is not to compare Fabregas to Messi in any way, he is not Spain's most potent goal threat like Messi is with Barcelona. Del Bosque put Cesc in this position in an attempt to drag out De Rossi as he is naturally a defensive midfielder to open up the space in behind him. Fabregas, or the most forward Spanish player, was never going to play right against the last man like David Villa is so good at doing, check his offside numbers to see what I'm talking about. This means that most of the time Fabregas, Silva or Iniesta was going to be at least 5 yards off the last defender as that is how they naturally play - they all look for pockets of space and move into them to receive the ball. This system works well if the defender is drawn out to the ball and then the space in behind him is exploited early by runners from midfield. The onus was on Iniesta to do this as he has the skills and pace as well as the finishing ability. David Silva is a great player but he doesn't possess the pace to run into the box like they required, he would much prefer to be the player to provide the defence splitting ball to the runner, as he did for the goal.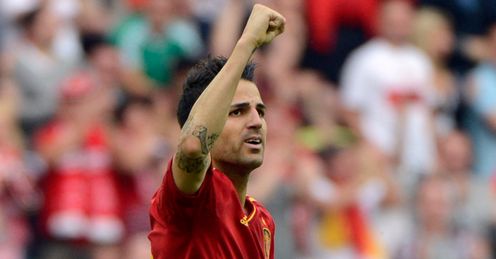 The Spanish goal came from Fabregas making a run in behind Chiellini after he went out to Silva who was in the number 9 position. Spain picked the ball up from a slack pass into Pirlo and Xavi pounced on the chance to win the ball and give it to Iniesta early. The World Cup hero then attacked Italy and drew in at least 3 Italian defenders before laying off to Silva who instantly saw Fabregas' run. That was exactly how Del Bosque would have seen his decision working out with moves like that. Iniesta had a great chance in the first half when he positioned himself in space alongside the back 3 of Italy and could well have finished the move created by Xavi. Spain's best other chances in the first half came from pressing Italy and winning the ball in their own half before breaking whilst the Azzurri had committed men forward. These chances fell to David Silva who will only take chances on his left foot and he failed to truly test Buffon on both occasions.
The Italians played a high pressing game, in the first half the pressure on Busquets led to Cassano winning the ball and being fouled by Sergio Ramos resulting in Pirlo's free kick being saved by Casillas. Their back 3 played very deep for most of the game although arguably when they should have played deepest, when Torres replaced Cesc, they played high and should have been punished for this but Torres couldn't capitalise on his 2 great chances. The first of these chances should see Buffon given more credit than Torres given flack, he knew exactly what Torres was going to do and he didn't go down and foul the Chelsea man. There's no doubt even the world's greatest Lionel Messi would have tried to go round Buffon as well. His second chance was another excellent through ball and he created the chance to chip Buffon himself, but like his season has gone the chance failed to go in. His confidence will surely be very low after these misses and the fact he was overlooked for no striker. Torres said after the game "we didn't practice that system with Cesc". Hardly seems like he was impressed with Del Bosque's decision although I would think his chances of starting the game on Thursday will be much higher after Spain created a lot more when he came on. Both chances Torres had were great through balls that he could run on to, showing it was the right decision to bring him on rather than Llorente who would have struggled to outpace the defence. On the other hand Llorente would have thrived on the crosses Jesus Navas provided when he was introduced on the right hand side.
Once again it looks like Spain will attempt to tire their opposition for the first 60 minutes with excellent possession football and the possibility of creating chances through Tiki Taka football until they introduce the likes of Torres, Navas, Llorente and Pedro to give the opposition other problems to think about. These players are more likely to finish chances created by Xavi, Silva and Iniesta. Back in South Africa, Spain lost their opening game and then dropped Silva and Iniesta for Torres and Jesus Navas. This year I feel we can see the same players come in with Silva and Fabregas dropped so there is more of a traditional shape and not too many similar players. For their third group game they brought Iniesta back in for Navas. If Pedro had been playing yesterday I feel the system would have worked really quite well, he has great pace and his finishing ability is much better than those on display yesterday. He had a down year for Barcelona with the rise of Cuenca, Tello and various injuries on a personal level but he came back in the last few games of the season and started in the Copa del Rey final. His constant pressing of the opposition makes Barcelona tick and sets the precedent from the front which is why I was surprised he didn't play any part yesterday. He would have run into any space left by the Italian back three and you can guarantee he would have been found with the abundance of class Spain had behind him.
My final thoughts go to Xabi Alonso. He is the pass master for Real Madrid and he would walk into any national team in the world, what I would give for him to be English. However, is there room for him in this Spanish team? Del Bosque clearly feels he should be in the team as I'm sure many Spaniards and non-Spaniards do but what does he do that Xavi can't? He is a deep lying ball player, much like Andrea Pirlo whereas Xavi will drift forward and does get on the end of balls delivered in the box. Since Messi has blossomed under Pep in the centre of the pitch Xavi has gone to play at another level. His link up play with Messi is excellent and they often find each other in the box. Del Bosque has seen this change in Xavi's game so he had faith in the Barcelona trio of Xavi, Iniesta and Cesc all to make runs into the box vs Italy.
Can anyone picture Xabi Alonso making this run for the goal Xavi scored against Real Madrid? I may have contradicted myself by explaining how Xavi now operates in a more forward position and can make runs into the box so Busquets needs someone alongside him for protection but he doesn't need that for Barcelona. If Xabi Alonso was to be dropped for one of Pedro, Torres, Llorente or Navas I think we would see Spain finish and create more chances. Xavi could then play slightly deeper but with Busquets behind him he would have faith in his protection. This would also allow Iniesta to come more inside, with Pedro an option on the left and if not then the speedy Jordi Alba could exploit this space from his left back role. I would argue having the midfield trio of Busquets, Xavi and Iniesta with Pedro/Navas, Torres and Silva as the three up front would cause their opposition many more problems and gives them more balance. The loss of David Villa to this team can't be underestimated, Spain's topscorer is relied upon to a large degree to get the goals and be the final link in their great football. Having threats from a front three like that would hopefully mean Iniesta wouldn't attract this sort of attention, but if he did and managed to pass the ball on it would be finished.
Spain, to me, are a great team to watch and play football in the right way even if they don't tend to shoot as soon as they should. That is why David Villa is so key, he won't hesitate to have a go whenever he has a yard of space. I don't think this will be Spain's year as they still need a natural finisher to convert their great play but we saw something yesterday that was very interesting to see.